Are you looking for sustainable ways to redesign your home? Have you ever considered buying secondhand furniture for that very purpose? Just think about it, secondhand wooden furniture, or furniture of any kind, does not require any more raw materials or energy for production. There's no additional pollution and waste, no packaging, and to top it off, older, more antique pieces have a great deal of character to them and a lot of exciting history.
Intrigued by this but you don't know where to start with your secondhand redesign? That's not a problem, just read our 9 handy secrets, and you will be hitting Fort Lauderdale furniture stores in no time! 
Secondhand Furniture Shopping Tips
Keep your eyes peeled
Always be on the lookout for great deals and secondhand furniture whenever you're in a furniture store. Why? If you are serious about your redesign, you'll want to have an extensive repertoire of furniture stores in Fort Lauderdale that offer used items. This way, when you'll finally start your redesign project, you'll know where to go.
For instance, you can always visit Habitat Restore of Broward where you can always find environmental-friendly deals at great prices. New inventory arrives daily from generous individuals and corporate donors.
On the other hand, some of the finds are pretty rare and hard to come by the second time around. So, if you happen to bump into something you really like, don't hesitate to make a purchase, otherwise, you might not have a second chance to do so.
Always inspect the item personally
There are instances when this is impossible, however, it's worth the effort. While online shopping is convenient, sellers can also hide serious damage or flaws with the same convenience. Condition is a crucial element when you're buying second hand, and inspecting any item before you make a purchase, used furniture in Fort Lauderdale included, can save you from painful headaches down the path. 
Always know your measurements
Never leave your measuring tape at home and always know how much space you have in your rooms. You don't want to end up buying something that doesn't fit well or doesn't fit at all. Measure your doorways as well. There's nothing more frustrating than buying a perfect item that you simply can't get through your front door.  
Have a specific idea but try to keep an open mind as well
You never really know what you will find when you go secondhand furniture shopping so be ready to get creative, to improvise, and sometimes even to compromise. Otherwise, you may never find the items you are looking for to realize your redesign project.
That being said, never look for anything overly specific. Go in with an open mind and consider everything that you can see yourself enjoying in the long run. Sometimes, you'll have to be creative and make small adjustments to make specific items work in your living space, but sometimes that's better than coming home empty-handed every time.
That being said, try looking for items in advance so you'll have more options. Also, be open to more items. If you can't find a plan A item, feel free to use your plan B or C instead. It might grow on you and who knows, if you find your dream piece, you can simply swap them any time.
Be prepared and think fast
If you're an impulse buyer, you have a clear advantage here. The ugly truth is, things are pretty dynamic in the secondhand furniture market, and sometimes being hesitant is enough to go home empty-handed.
The truth is, a lot of people and retro furniture dealers are into great used items making the buyer competition really fierce. So, if you see something that you really like, don't hesitate to go for it. Chances are if you come back just the day after, the item will be long gone. 
Always know your prices
This will take time but don't worry, everything does. Until you develop a better sense for pricing, just take out your phone and compare prices online to see if you came across a bargain or a rip-off. 
In some cases, you can also barter, but don't forget to observe how others do it first unless you're a natural at it. Always know what you're prepared to pay for a specific item before negotiating, and don't give in. Also, try not to get overwhelmed and end up spending more than you initially planned just because there were a few items that you could knock off of a few bucks. 
Know your capacity and chops
This is especially important when you want to restore items on your own. Be honest with yourself and assess your handiness and knowledge. If a project is out of your range, you're better off looking for something else than buying something that you can't upcycle on your own or without significant costs.
Professional restoration can be pretty expensive and can cost you more in the long run than you were initially willing to spend. That being said, something that's cheap doesn't automatically mean that it's a good find and something that can be saved. Chances are, you'll just end up wasting money.
Steer clear of irreparable damage
As said above, some items are not meant to be saved just because they are cheap. Unfortunately, damage like rotting, woodworms, bad smells, and damaged fabrics are all big red flags. When it comes to smells, the upholstery can be replaced, but if the odor is strong, fillings and stuffings might be affected too. Avoid items damaged by water or with burn marks. Also, keep an eye out for mattresses and fillings with germs and dust mites.
The Habitat Broward ReStore only sells new and gently used furniture, so you don't have to worry about damaged goods.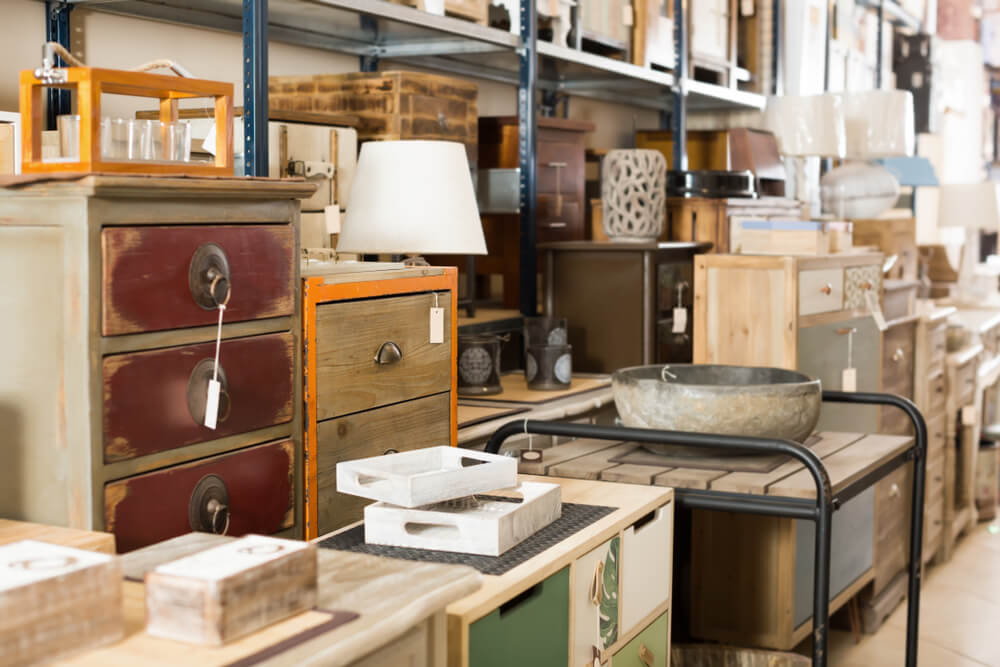 Don't forget to have fun
This might be too much to take in all at once so don't forget to enjoy yourself and have fun. Getting into the groove of used furniture shopping takes time but after you get the hang of it, it gets much easier. 
The more you do it, the more exciting and fulfilling it becomes. 
Ready to Give Secondhand Furniture Shopping a Try?
Used furniture shopping has its own set of rules, dos and don'ts, but all in all, it's something you can get the hang of pretty quickly. It's a great way to redesign your home in a sustainable way and these tips can help you get started.
Be sure to make it a plan to visit our Broward ReStore. All the items in the ReStore are sold at a fraction of the original retail price, they're all new or gently used and all the proceeds from the store are used to help Habitat Broward partner families build better lives for themselves. Everyone's a winner!
https://www.habitatbroward.org/wp-content/uploads/2020/08/9-Secrets-of-Successful-Secondhand-Furniture-Shopping.jpg
667
1000
Habitat Broward
https://www.habitatbroward.org/wp-content/uploads/2017/10/HHB_menu_logo_lg.png
Habitat Broward
2020-08-25 09:13:44
2021-02-25 06:39:59
9 Secrets of Successful Secondhand Furniture Shopping